Preparation Equipment
SFSU researchers should refer to the list of Frequently Asked Questions (FAQs). Consumables specifically designed for the Zeiss FE-SEM are available from several electron microscope accessory vendors, and a list of consumables from one local vendor is provided for convenience.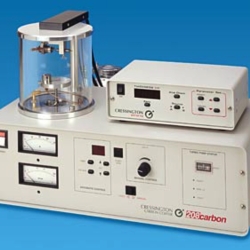 208C High Vacuum Turbo Carbon Coater with Thickness Monitor MTM-10
Designed for FE-SEM imaging and EDS chemical analysis, our system includes two additional stages offering four holders for different specimen types. A Rotary-Planetary-Tilting stage offers variable speed and adjustable tilt ensures uniform coating on multiple samples. The 208C uses a unique fully integrated electronic feedback-controlled power design for the rod fed Bradley type carbon evaporation source. Current and voltage are monitored by sensor wires in the evaporation head where the evaporation source is part of the feedback loop. This feature gives the conventional rod fed carbon source unusual stability and reproducibility. The carbon source uses two-step ultra-pure carbon rods. The evaporation source can be operated in manual "pulse" or manual "continuous" modes. The pulsed mode, when used in conjunction with the optional MTM-10 high resolution thickness monitor, gives excellent control over the thickness of the carbon coating.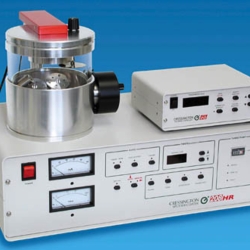 208HR High Resolution Metal Sputter Coater with Thickness Monitor MTM-20
The Cressington 208HR high vacuum, high resolution sputter coater with metal thickness monitor MTM-20 is ideal for FE-SEM applications. The 208HR includes a Rotary-Planetary-Tilting (RPT) Stage and a range of high-purity metal targets. Gold (Au) provides a very strong secondary electron signal and is ideal for low to moderate magnifications. The gold-palladium (Au/Pd) target produces a finer grain (crystal size) coating than pure gold and is ideal for moderately high magnification microscopy. Our metal targets for coating are Au, Au/Pd, and Ir.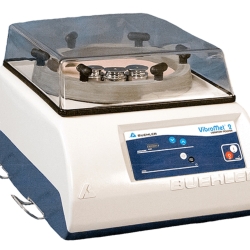 Buehler VibroMet®2 Polisher
The VibroMet®2 Polisher is a machine designed to prepare high quality polished surfaces on a wide variety of materials. After mechanical specimen preparation, the VibroMet Vibratory Polisher uses colloidal silica to remove any minor deformation that remains.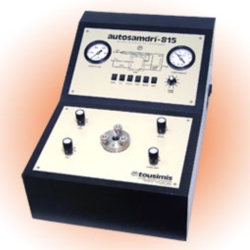 Tousimis Autosamdri®-815(A) Critical Point Dryer
The fully automated critical point dryer gently completes the final stage of biological specimen dehydration. Only 200-proof anhydrous reagent-grade ethanol is used in the critical point dryer. All Internal surfaces are inert to liquid CO2 and ultra-pure ethanol. Internal filtration protects samples and valves down to 0.5 µm. 
Sample Restrictions: All specimens intended for analysis in the Ultra 55 must be solid, oil - and contamination-free, and completely dry. Specimens, aluminum specimen mounting stubs, and the aluminum/brass electron microscope stub holders must always be handled with clean powder-free gloves (no fingerprints). Specimens must be stable under vacuum and during irradiation by the electron beam. Specimens should not sublime or outgas in the sample chamber. All specimens must be firmly attached to the aluminum sample stubs with cured conductive epoxy, small "dots" of silver or carbon paint around the edge of specimens (not under the specimen – it will never dry). The specimens should be gently heated for 24 hours to drive-off solvent vapor from the carbon or silver paint prior to imaging or coating. Any particulate specimens must, in addition, be coated so that particles charged by the electron beam are not drawn up into the microscope by the electric field of the electrostatic lens.
Sample Preparation: Researchers are responsible for basic sample preparartion in their own laboratories after discussion with the facility director.