CoSE Undergraduate Hood Recipients and Undergraduate Speaker
May 25, 2023

Photo Credit: Strategic Marketing and Communications
A dozen outstanding graduates will be honored during San Francisco State University's 122nd Commencement ceremony, to be held at Oracle Park Friday, May 26. They will represent their more than 7,900 graduating peers in the Class of 2023.
As part of a longstanding tradition, each of the University's six academic colleges selects an undergraduate and a graduate student to represent their classmates and wear their college's academic hood during the ceremony. More details about the ceremony are available on the Commencement website. Additionally, two of the hood recipients, one undergraduate and one graduate student, will deliver a Commencement address.
Representing the College of Science & Engineering are:
Undergraduate Hood and Speaker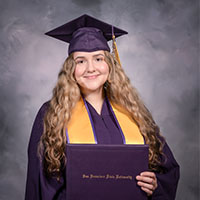 Nicole Bañuelos,
B.A., Biology
College of Science & Engineering
 
Nicole Bañuelos overcame many challenges to complete her Biology degree with highest honors. While an undergraduate at SF State, she worked as a frontline health care worker during the peak of the COVID-19 pandemic and raised two children as a single mother.
 
Driven to make a difference in underprivileged communities, Bañuelos joined Associate Professor of Biology Blake Riggs' research lab to study the toxicological effects of parabens, small molecules commonly found in food and personal care products. Her studies modeling human breast, ovarian and fallopian tube cancers revealed some of the potential dangers of everyday exposure to parabens and how they can impact DNA, fertility, lifespan and more.
 
Her international presentations, delivered in both English and Spanish, have won awards. In 2022, she earned first place at the SF State Research Conference in the Biological and Agricultural Sciences category, and she won a presentation award at the Annual Research Conference for Minoritized Students. Her list of accolades includes being a Genentech Foundation Scholar for three years and a recipient of the Hispanic Foundation of Silicon Valley Latinos in Technology Scholarship.
 
Bañuelos is also dedicated to mentorship, particularly of young women interested in STEM fields. Beyond academia, she serves her community as a homeless outreach specialist, domestic violence advocate and peer counselor. She has received a United States Senate Certificate of Commendation, California State Legislature Certificate of Recognition and more for her service work.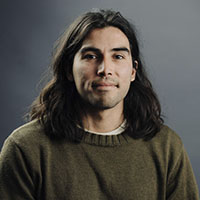 Raymond Leroy LeBeau
M.S., Geographic Information Science
College of Science & Engineering
Raymond Leroy LeBeau is a member of the Pit River Tribe in northeastern California with Cahuilla and Lakota family relations. He says his scientific interests really began when he was exposed to geographic information science as an undergraduate. As a Geographic Information Science master's student at SF State, he had a personal interest in researching meadow systems.
 
He joined the University's Geography department just as it was starting its Red Clover Valley project assessing innovative ways to restore and protect montane meadows in the Sierra Nevada. Beyond its scientific implications, the project could inform how to protect local communities from the impacts of climate change, such as earlier snowmelts. For his thesis, LeBeau led the effort to map a huge field site using high-resolution drone imaging and analyzed changes in cut meadow stream channels after meadow restoration activities.
 
As a graduate student, LeBeau has been supported by several scholarships including the Cobell Scholarship and American Indian College Fund (AICF) Scholarships. He has been working in a student position with the U.S. Geological Survey and hopes to pursue a doctoral degree in the future.
Read about hood recipients from all colleges in SF State News.