WISE Scholarship
The WISE scholarship, established by Dr. Jan Randall, Professor Emerita of Biology, is awarded to an outstanding student in the graduate program at SFSU each year.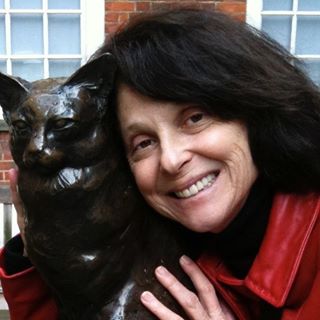 Dr. Jan Randall is a world-renowned animal behaviorist. She obtained her BS in Zoology in 1965 from the University of Idaho (Moscow). She then pursued an MEd. in 1969 at the University of Washington, Seattle, and her Ph.D. in 1977 at Washington State University, Pullman. Dr. Randall was an NIH Postdoctoral Fellow at the University of Texas from 1977 to 1979 and a visiting professor at Cornell University 1984-1985. From 1982-2003, Dr. Randall had almost continuous grants from among NIH, NSF, National Geographic Society, and US Civilian Research and Development Foundation. She has over 60 peer-reviewed publications and was an associate editor of Animal Behaviour (2008-2011).
Dr. Randall was hired at SFSU in 1987. She taught courses in Introductory Biology, Nature Study, Mammalogy, Animal Behavior, Hormones and Behavior, and Behavioral Ecology. She conducted research on the evolution of communication and the social behavior of rodents in the deserts of the U.S., Turkmenistan, and Uzbekistan. She was Secretary (2006-2009) and Member-at-Large (1986-1989) of the Animal Behavior Society, became a Fellow of the California Academy of Science (1993), and of the American Association for the Advancement of Science (AAAS) (2015). Dr. Randall was awarded Outstanding Alumnus from the University of Idaho in 2005. In 2013, Dr. Randall was elected a Fellow of the Animal Behavior Society, and in 2016 she received the Society's Quest Award in recognition of her long-term productive research career which demonstrated the importance of social structure in species once considered asocial. She is interested in promoting women in science and has funded a seminar series (since 2003) at the University of Idaho that features outstanding women scientists.
Since 2010, Dr. Randall has supported the SF State WISE program, which awards a scholarship to talented female graduate students in the College of Science and Engineering and sponsors a Distinguished Speaker series. She currently serves on the Board of Directors of the Endangered Species Coalition, Washington, DC, and is Chair of their Scientific Advisory Committee. Most recently (2018), she authored "Endangered Species: A Reference Handbook" (Contemporary World Issues): An exploration of the variety of threats that endangered species are facing around the world from human impact.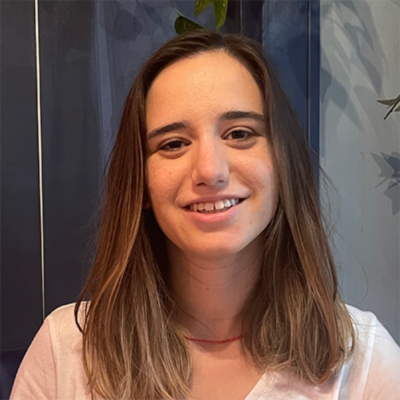 Beyzanur Arican Dinc, MA in Psychology (Concentration in Social, Personality, and Affective Science)
Beyzanur is completing her research in the Culture and Emotion Research Lab of Professor David Matsumoto. She has excelled as a first-generation college, international student completing her first two semesters remotely from Turkey and actively engaged and participating in her laboratory environment. She has made progress in her own research project: "Emotion Recognition Accuracy and Relationship Satisfaction"  to identify the factors that contribute to relationship satisfaction, and ultimately shape each individual. As an undergraduate, she demonstrated leadership in the Society for Women and Scientists at Boğaziçi University, and her goals include continuing on to a Ph.D. program and developing an academic research career.
There are two Honorable Mentions this year:
Catherine Thow [Interdisciplinary Marine and Estuarine Sciences-MS, mentor: Frances Wilkerson]
Rachel Quock [Biology (Ecology, Evolution and Conservation Biology)-MS, mentor: Ravinder Sehgal]
Sarah Purnell, a candidate in the MA in Psychology (Concentration in Mind, Brain & Behavior) program.
Sarah is completing her research in the Cognition and Social Equity Lab (CaSE Lab) of Professor Avi Ben-Zeev. She has built upon her undergraduate work on gender bias in categorization (SF State BA in Psychology, Minor in Women and Gender Studies, Minor in Criminal Justice Studies) to develop a master's thesis studying the perception of pain in others and the empathy felt for women compared to men. This work has implications on disparities of medical treatment of women. She has demonstrated her leadership and mentoring abilities as a co-lab manager of the CaSE Lab, and as a teaching assistant within the Psychology Department. Her goals are to continue on to a doctoral program and develop a research career focusing on how cognition contributes to differential perceptions of individuals and groups. 
Natasha Crawford, MS in Biology (Concentration in Cell & Molecular Biology) program. 
Natasha is completing her research in the laboratory of Professor Megumi Fuse. Her research involves studying the interaction of neuro-hormones and distracting stimuli with pain perception using the model organism, Manduca sexta, or the tobacco hornworm. Her research project was shaped not only by her interest in defining the molecular basis of pain perception, but also was motivated by her personal observations of pain perception by cancer patients. She has demonstrated her interest in supporting women in science and in fostering an inclusive research environment by her participation in student groups such as SACNAS and B-STEM, by her involvement in research about HIV-positive young African-American males through SF-BUILD, and by mentoring high school students and undergraduates. Natasha intends to continue on to a cell and molecular pathology Ph.D. program and focus on biomedical research questions with the lens to help participate in research that ameliorates health disparities.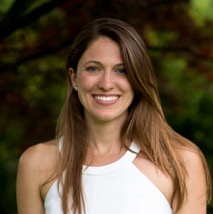 Lauren Finkelstein, an M.S. candidate in Geosciences from Jason Gurdak's lab
Lauren's research explores the effects of climate change on the water-energy-food nexus within the groundwater dependent agroecosystem of the Pajaro Valley. Her work is timely, innovative in its approach, and will greatly impact many stakeholders in implementing groundwater sustainability plans. Her dedication to sustainability is evident from her years of effort in this field, and her leadership of the Students for Sustainable Water here at SFSU. Lauren is clearly passionate about combining her scientific curiosity with her commitment to social justice and has emerged as an outstanding role model. The WISE scholarship committee enthusiastically recommends that Lauren Finkelstein be awarded the 2018 WISE scholarship.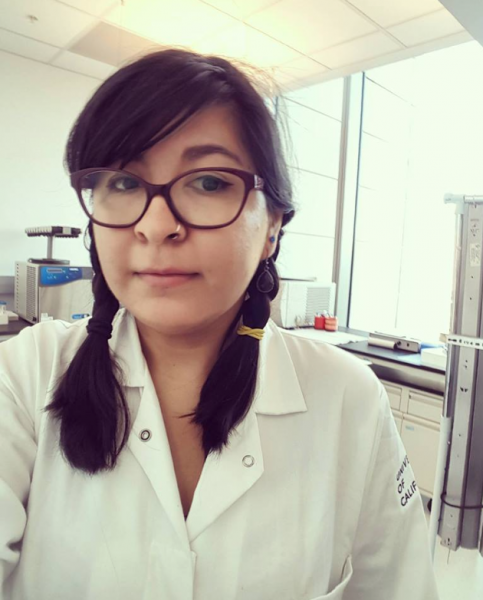 Amanda Carbajal, Research advisor David Kokel, UCSF/ SF State advisor Megumi Fuse
Amanda's research focuses on behavior-based neuroactive drug discovery in order to improve the quality of medications to treat and manage mental illnesses and neurological disease. Due to the gaps in understanding of the central nervous system and how diseases and disorders work, there are many undesirable side effects associated with the limited effective drugs used today. She uses zebrafish, which are a great animal model due to their low cost, fast lifecycle, blood-brain barrier, and similarity to humans, to run high throughput screens. She determines if a drug is neuroactive when it changes the behavior of the fish that are treated. From there, the lab investigates a drug further in order to find out the molecular processes behind the drug interactions. Utilizing computational methods like similar ensemble approach (SEA) she can make accurate predictions of drug-receptor interactions which can help to learn more about how these multi-target drugs truly work.
Crystal Weaver, an M.S. candidate in Marine Science (Advisor: Kathy Boyer, Biology & Romberg Tiburon Center)
Crystal is a coastal ecologist who is highly driven by her desire to improve ecological restoration techniques through research. Her Masters thesis work on eelgrass restoration led her into the microbiology field, as she investigated the role of sediment microbiomes in eelgrass transplant survival. Since discovering a new appreciation for microscopic organisms, she has become a microbiology research associate with DuPont Pioneer where she continues to tackle real world problems with research based solutions.
Cara Gallagher, Ecology, Evolution, and Conservation Biology graduate student
The committee was impressed that her application included a strong research proposal, as well as a long-range vision of where her research will go. Cara is a first-generation college student and has shown both commitment and enthusiasm for her chosen discipline not only by her research experiences but also by her volunteer and community outreach experiences.
Cara Gallagher is a Master's candidate at San Francisco State University's Romberg Tiburon Center for Environmental Studies. She is currently working with Golden Gate Cetacean Research on the San Francisco Bay harbor porpoise project. Cara is investigating the potential amount of energy removed by harbor porpoises from SF Bay waters and transferred to the coast. As returning predators in SF Bay, it is important to place porpoises back into the context of the SF Bay food web. Cara is also currently working as a research associate with a startup that is investigating the impacts of climate change on mussels and harbor seals in Bodega, California.
Emma Beck, Earth & Climate Sciences Department graduate student
Emma's thesis research involved developing a multi-dimensional characterization of the Greater Himalayan Sequence (GHS), the high-grade metamorphic core of the Himalayas. She used the pressure, temperature, time, and deformation (P-T-t-d) histories to model the evolution of the GHS.
Since graduating, she has been hired by Occidental Petroleum as a petroleum geologist and is currently working in Long Beach, CA for their spin-off company California Resources Corporation in the Wilmington oil field.
Diana Juarez Madera, Physics & Astronomy Department graduate student 
Diana's master's thesis revolved around the possibility of dust trapping inside giant gas vortices in the protoplanetary disk to close the gap in our understanding of planet formation. Presently, she is an Aeronautics and Astronautics Ph.D. student at Stanford University. As part of the Space Environment and Satellite Systems (SESS) research group, She studies plasma physics and the effects of space weather in spacecraft as well as space energy harvesting.
Michelle Slocombe, Geography Department graduate student
Michelle Slocombe received her Master's degree in Geography: Resource Management and Environmental Planning from San Francisco State University. Her research focused on examining the geomorphic features of small montane meadow streams in the Sierra Nevada and applying those findings to meadow restorations.
Michelle currently works as an Environmental Scientist at CalRecycle in Sacramento, where she works on food waste technology, such as anaerobic digestion, and other innovative ways to encourage source reduction, reuse, and recycling.