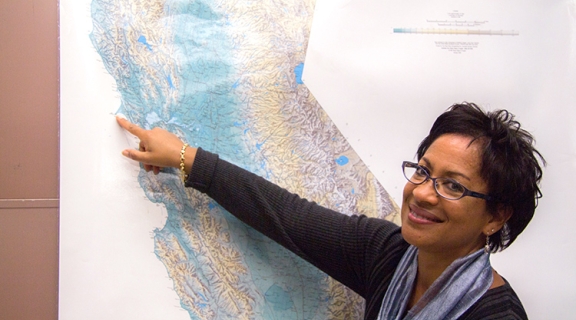 Rosenberg Institute Fall Seminar Series - Lisa White
Wednesday, October 27
Event Time
03:30 p.m. - 04:30 p.m.
Location
Virtual Zoom Event
Overview
Lisa D. White—Museum of Paleontology, University of California, Berkeley
Integrating virtual fieldwork, paleontology collections, and visualization tools to enhance geoscience instruction for diverse audiences
Abstract: The extensive fossil holdings and significant online resources at the University of California Museum of Paleontology (UCMP) are accessible through educational websites, databases, specimen photographs, and digital archival materials. As the menu of virtual offerings expands and includes virtual field experiences of unique fossil sites supported by digitally integrated gigapixel-resolution images, UCMP has a special opportunity to bring the user to the extraordinary places where geoscientists work. Complementing these efforts is the launch of a new instructional resource, Understanding Global Change, which provides rich visualizations on an interactive canvas that can be used to map and model global change phenomenon. These and other UCMP resources are central to our efforts to foster diversity in geoscience and we target a range of students from pre-college to community college, while widely sharing resources with public audiences.
Bio: Dr. Lisa D. White is Director of Education at the Museum of Paleontology at the University of California, Berkeley. Past positions held during a 22 year career at San Francisco State University include Professor of Geosciences, Geosciences Department Chair, Associate Dean of the Graduate Division, and Associate Dean of the College of Science and Engineering. Dr. White has extensive experience with science education programs for underrepresented students and she leads multiple efforts to increase diversity in the geosciences. A micropaleontologist by training and Fellow of the California Academy of Sciences and the Geological Society of America, Dr. White was the inaugural recipient of the GSA Bromery Award for Minorities, an honor bestowed upon a geoscientist who has been instrumental in opening the geoscience field to diverse communities. As Chair of the American Geophysical Union Diversity and Inclusion Advisory Committee, Dr. White works to create a culture that embraces diversity and inclusiveness in the Earth and space sciences. As the education director at the UC Museum of Paleontology, she develops and disseminates learning materials on evolution and the fossil record, virtual geological field trip experiences, and the nature and process of science. Dr. White holds degrees from San Francisco State University (B.A. in Geology) and the University of California at Santa Cruz (Ph.D. in Earth Sciences).
https://ucmp.berkeley.edu/education-outreach/diversity-and-inclusion/