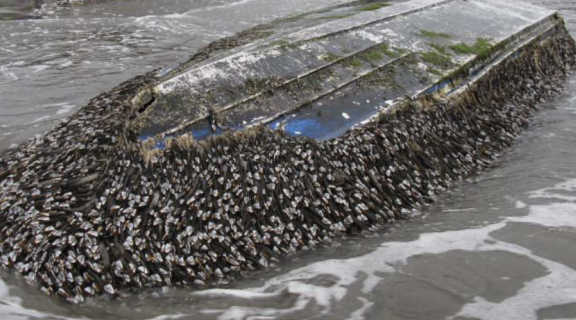 Rosenberg Institute Fall Seminar Series - James Carlton
Wednesday, December 08
Event Time
03:30 p.m. - 04:30 p.m.
Location
Virtual Zoom Event
Overview
Dr. James T. Carlton, Professor of Marine Sciences Emeritus, Williams College
The Age of Invasions Meets the Age of Plastics: How Tsunamis, Rafting, Coastal Development, and Climate Change May All be Related
Abstract: The March 11, 2011Tōhoku earthquake and tsunami sent an unprecedented volume of marine debris into the North Pacific Ocean which began to come ashore in North America and the Hawaiian Islands in 2012. Between the spring of 2012 and the winter of 2016/2017 we found nearly 400 living Japanese invertebrates and algae on Japanese Tsunami Marine Debris (JTMD) that landed in the Central and Eastern Pacific. Remarkably, JTMD, with living Japanese species has continued to arrive into 2021. Research commenced in 2019 in the "Garbage Patch" has now revealed that these Western Pacific coastal species appear to have newly colonized debris in the open ocean, successfully reproducing and maintaining multiple generations on the high seas.
Bio: Dr. James T. Carlton is Professor of Marine Sciences Emeritus at Williams College (Williamstown, Massachusetts USA) and Director(1989-2015)Emeritus of the Williams College -Mystic Seaport Ocean and Coastal Studies Program (Mystic, Connecticut).His research is focused on the environmental history of estuaries and coastal marine ecosystems, including species invasions and modern-day extinctions.His research sites include the Pacific and Atlantic coasts of North and South America, the Hawaiian Islands, and the Galapagos Islands. He founded the journal Biological Invasions,and is a Pew Fellow for Marine Conservation. He was Co-Chair of the National Academy of Sciences Marine Biodiversity Committee, which produced Understanding Marine Biodiversity: A Research Agenda for the Nation, and Co-Chair of the NAS/NRC committee advising on setting ballast water standards to reduce species introductions. Jim received his undergraduate degree in Paleontology from the University of California-Berkeley, his Ph.D.in Ecology from the University of California-Davis, and did his postdoctoral work at the Woods Hole Oceanographic Institution.