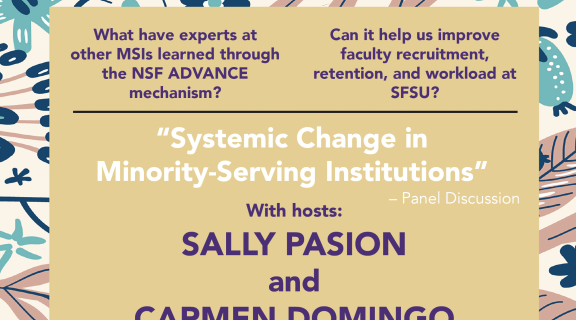 Panel Discussion: Systemic Change in Minority-Serving Institutions
Tuesday, April 05
Event Time
04:00 p.m. - 05:00 p.m.
Location
Virtual Zoom Event
Overview
With hosts: Sally Pasion and Carmen Domingo
Co-sponsored by SF State Transforms, WISE and CoSE
REGISTER TODAY!
https://sfsu.zoom.us/meeting/register/tZIuc-ugqzktGNZ25AkLb0R4pzyvQvpNm…
Panel Discussion
What have experts at other MSIs learned through the NSF ADVANCE mechanism?
Can it help us improve faculty recruitment, retention, and workload at SFSU?
For more information, please see the timestamped slides supporting the video in case you wish to follow up on discussion points from the Q & A.