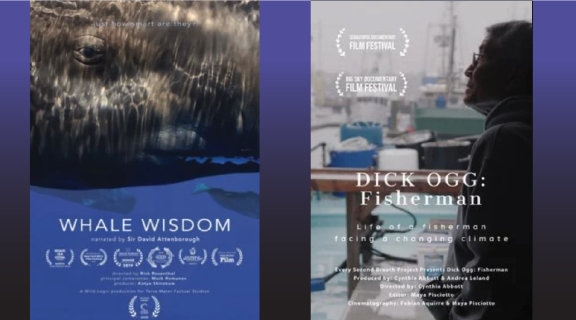 EOS Center and IOFF Film Screening and Panel Discussion - Two Documentaries
Thursday, April 01
Event Time
07:30 p.m. - 08:30 p.m.
Location
Estuary & Ocean Science Center - Zoom
Overview
About this Event
Film #1: WHALE WISDOM
Filmed entirely in 4K from above and below the surface using boats, kayaks and drones, and working with respected whale scientists and researchers, Rick Rosenthal shines a light on the culture and wisdom of whales.
What goes on inside those vast heads? How might such almost alien creatures see the world? How might they think? New science is beginning to give us some answers.
Marine biologist and filmmaker Rick Rosenthal is on a journey to explore these insights, measuring the latest science against his own observations and long-held beliefs – and just maybe, getting a glimpse of the world as it must seem to these ocean giants.
Captured on camera for the first time in 'Whale Wisdom', Rick films the astonishing behavior of a humpback whale which, time and again, manages to outwit humans in order to get what she wants – their fish. She brilliantly thwarts each attempt by the managers of a salmon hatchery to keep her away. Her coup de grace – slipping in and out unseen into an enclosure barely bigger than herself.
Film #2: DICK OGG: FISHERMAN
Bodega Bay Fisherman Dick Ogg is forced to confront the realities of a warming ocean, the creation of a Marine Projected Area in the local fishing grounds, and derelict crab pots. Dick wants to see organic sustainable fishing practices but daunting challenges are causing local fishermen to leave the profession. Here Dick faces these challenges with solutions and actions to keep the local fisheries alive.
PANELISTS to take your questions LIVE about the films and the issues they raise:
Rick Rosenthal is a four-time Emmy, and BAFTA award-winning filmmaker, recognized for his cinematography of ocean wildlife. With advanced degrees in marine biology, Rick draws on his scientific expertise to capture extraordinary wildlife behavior on camera.
Katya Shirokow is the Managing Director of Wild Logic, which she co-founded in 2002. Wild Logic produces natural history films for worldwide audiences. WHALE WISDOM is being recognized with awards at film festivals worldwide and is currently airing in over 120 countries.
Frances Wilkerson is a Biological Oceanographer at the EOS Center, studying nutrient and phytoplankton interactions in the sea which is linked with oceanic carbon fluxes and global climate change cycling. She is also interested in the role symbiotic algae play in marine symbioses.
HOW IT WORKS:
1. When you purchase a "ticket" here, you receive a link to watch the films at your convenience. [This is not a screening and we won't be watching the film together.]
2. You will receive a second link to join the panel discussion which will take place at 6:30pm on Thursday, April 1st. We welcome you to enjoy the film even if you cannot attend the panel discussion.
3. For some, this is a time of financial hardship, including for students. At check out you will have an option to donate a student ticket. Kindly consider a ticket donation if this is an option for you. Much appreciated.
This opportunity is made possible by partnership between EOS Center and the International Ocean Film Festival.